Vinyl floor is a traditional floor in the market, It has comfortable foot feeling and waterproof can be widely in the bathroom or kitchen room. Vinyl floor depend on installation  difference have 3 different type: dry back, loose lay, click floor.
Many and many customers are all like to use loose lay type, so today, we will share some features about loose lay type with you.
Features
The hard-wearing, flexible properties of the material, combined with numerous useful technical quality features.
1. High Performance-price Ratio: 100% virgin vinyl material used, come with durable wear layer and strong viscosity, affordable qualified self-adhesive LVT for floors and walls.
2. Great Performance: Ecological PVC, with adhesive backing, transparent three-dimensional texture, non-slip wear-resistant, solid wood texture, more comfortable foot, eco-friendly, formaldehyde-free, flame retardant, moisture resistant, and anti-fouling.
3. Free DIY: You can DIY the floor yourself. You can adapt the floor to the size you need according to your needs, freely choosing the pattern of your choice, perfect interior decoration products.
4. Diverse Product Options: Available in a wide variety of colors, sizes, patterns, and specifications, Huiya stick on vinyl flooring is very affordable and proves to be a very profitable investment.
5. Easy to install: Self-adhesive PVC floor without glue, the quick installation you can stay in new rooms, no need to wait. You even can do it by yourself and save the cost of hiring a professional installer. Strong adaptability ensures it can be installed on a cement floor, old floor surface, terrazzo floor, tiled floor, heated floor, and raised floor in private or public places.
6. Wide Applications: Suitable for a variety of indoor spaces, a variety of decoration styles, mainly used in the living room, bedroom, kitchen, balcony, shop, studio, office, hotel, restaurant, and other space interior decoration.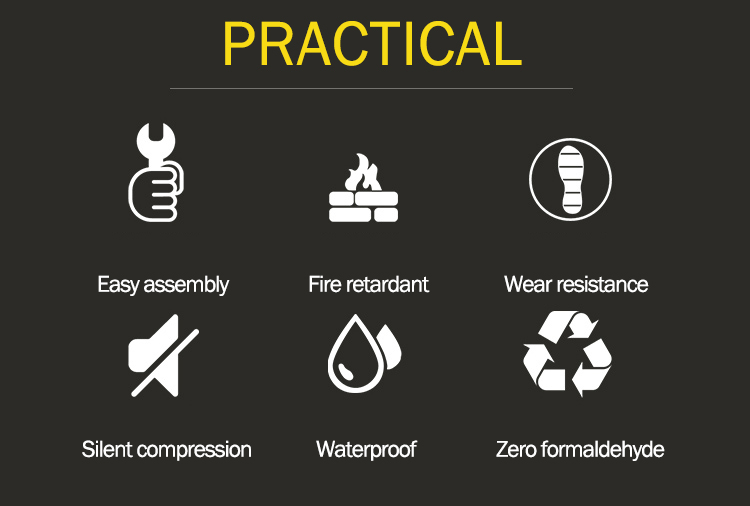 ---
Post time: Oct-20-2020